A complete management system for reservation, check-in, extension, room change, card loss reporting, check-out, etc. It supports data query like unlocking records.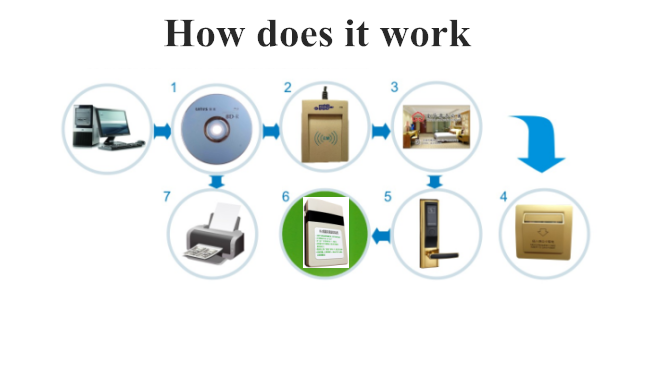 1.door lock management software
2. card encoder
3. RF card
4.energy-saving switch (option)
5. door lock
6. date collector (opthion)
7.printer(self-provided)
Eesy to manage all locks with our hotel lock system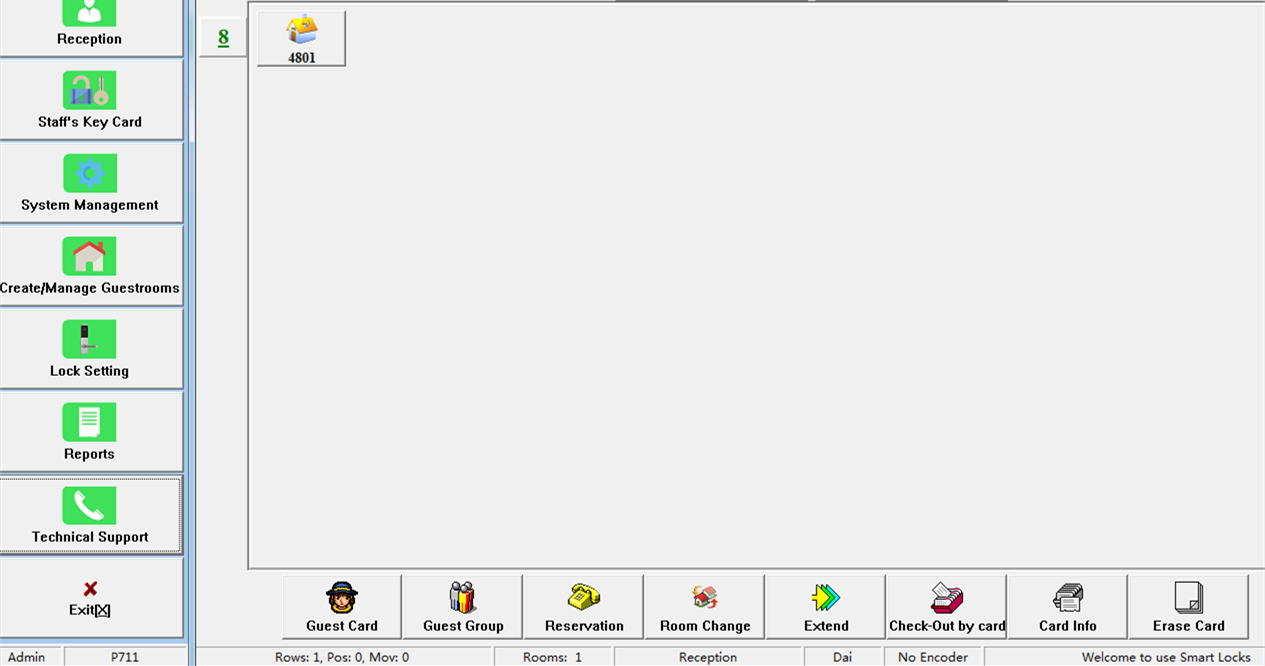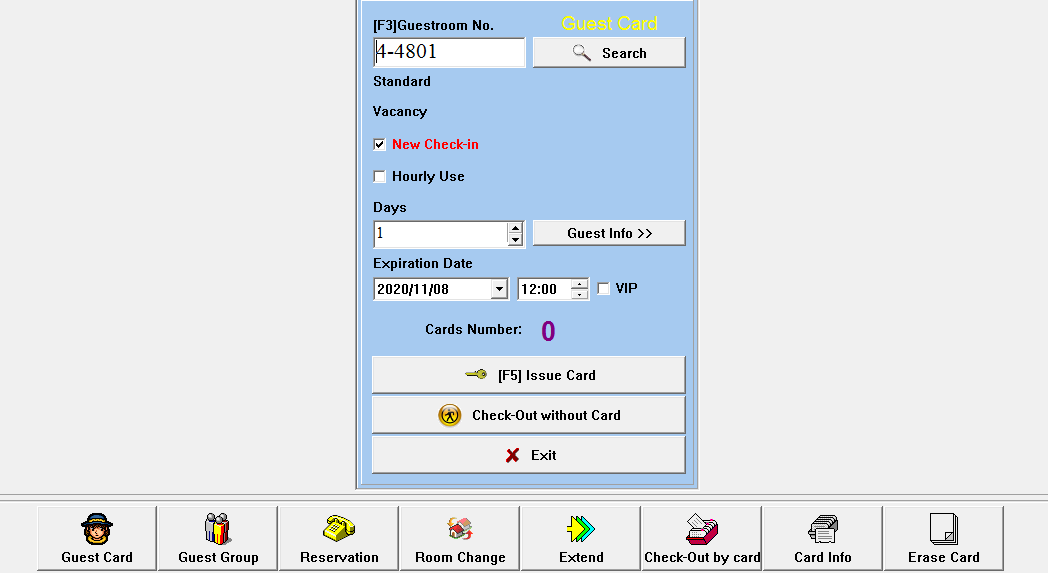 Specification

*Operating voltage: Four 6V high-energy alkaline batteries
* Static power consumption: < 15μA.
*Dynamic power consumption: 120~180mA.
* Validity of Battery: Normally 8~12 months.
*Low-voltage alarm: When the voltage is lower than 4.8V, it is still available for opening the door for dozens of times.
*Open in Emergency: Under no control. The door can be opened even if the dead bolt is locked.
*Time of opening: Once the handle is pressed, you are allowed to open the door for one time. The door will be locked automatically if it remains locked for 10s.
*Reliability: No error arising in 1,000 normal consecutive card-insertion operations.
*Unlocking records: The latest 350 pieces of records will be saved in the lock.
*Guaranteed condition: If any invalid card is read, the circuit in the lock can still function properly with no damage.
* Mechanical key: The mechanical emergency unlocking mechanism with a fully independent drive system is provided to ensure the door lock can still be opened properly in an emergency.
* Installation requirement: The door's thickness should range from 38mm to 85mm. If there is any ornamental pattern on the surface of the door, the distance from the ornamental pattern to the edge of the door should be no less than 105mm.
* Operating temperature: -20℃~+55℃ (-35℃~+85℃ under special conditions).
*Interface function: The dynamic link library provided can be integrated with any domestic or overseas hotel management system to share the information resources of hotels.
*Door opening direction: Push leftward or rightward, pull leftward or rightward to open the door.
*Card type: RFID card,125kHZ or 13.56Mhz
Features
Alarm function

if the card is not a valid key, there will be 6 short sounds warning with blue light on.
if the voltage is insufficient, there will be buzzer sound with blue light on
when the door is not locked well,the lock will alarm for fake locking


Multi access cards
Multi access control cards with limits of authority,include the general card, building card, floor card, laundry card and guest card.

Unlocking record
The latest 350 pieces of records will be saved in the lock.